OIL PAINTING WORKSHOP 2020
Spend a whole weekend painting with the focus very much upon individuals producing work unique to themselves.
Held in my Donnington studio on the edge of Historical Newbury Market Town. I have many years' experience of teaching art and get joy from seeing my student produces lovely results.
These oil painting workshops are suitable for beginners and intermediates. Working from a variety of resources. You will learn how to mix your palette to make the process of painting a joyful direct response. Groups will be kept to a small number to enable good individual attention.  All material provided and a simple lunch. We will be using real oil paintings so there will also be solvents in use.

January 2020 – Landscapes £150 pp
Saturday 25th 10am-4pm & Sunday 26th 10am-3pm
Step by step instructions for beginners and the more experienced. This landscape workshop will focus on how to achieve distance in your painting using perspective, colour and application.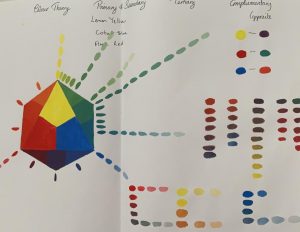 February 2020 Colour Theory £85 pp
Sunday 16th 10 am to 4 pm
In a relaxing atmosphere, this therapeutic experience will teach you how to mix and use colour in your artwork.  Suitable for all abilities.
This is a practical course using two different paints.  The intention is to come away with reference charts to help you remember various processes so that you can then expand within your own practice.
The day will include the making of a theory chart with Gouache, understanding how important complementary colours are to make colours sing together or create subtle soft shades. We will look at examples of artists work and then experiment with colour combinations.
You will also have the luxury of being able to mix oil paints to create a full range of wonderful colours. Learning from the practical application of subtle changes of colour enables you to see into colour and how it is formed, reinforcing your knowledge.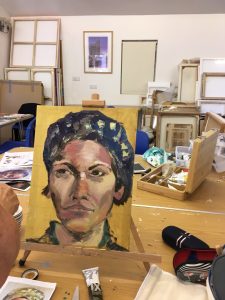 March 2020 – Portraits £100
Sunday 15th 10 am to 3 pm
Working directly from the model. This workshop will take you through underpainting with a strong emphasis on observation. You will build tonal differences and applying highlights to make your portrait come alive.
This day is suitable for those with some experience in painting.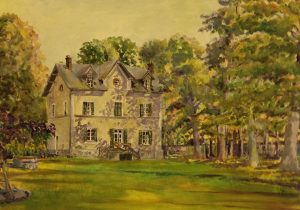 June 2020 – Garden Light £150 pp
Saturday 20th 10am-4pm & Sunday 21st 10am-3pm
The emphases of this workshop is to focus upon the strong tonal differences that create the illusion of sunlight.
To book and reserve your place payment of 50% of the chosen course. Please email me for bank details.
The remainder of the payment to be made 8 wks. prior to the start of the workshop. If payment is not received by 8 weeks your place may be cancelled. Deposit refundable from 7 days of payment. All payment to myself to be refunded to you in full if the workshop is cancelled.
Email louise@louisegunnersen.co.uk
Plenty to do in Newbury for a non-painting partner.
Newbury Races, Canal walking, Donnington Castle, Highclere Castle (Downton Abbey), Golf (3 courses very close), Hungerford Antiques close by.
Walkable B&B's  www.pilgrimsnewbury.co.uk | www.alma-house.co.uk
To book now contact Louise on 07751 277 409 or email her at louise@louisegunnersen.co.uk